EQUIPMENT SPECS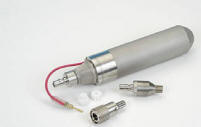 SP-400 PUMP HEAD
This electric submersible pump is ideal for providing representative samples due to the low RPM motor and user controlled flow rate. Our positive displacement gear pumps are machined from stainless steel and Teflon* in the interest of purity. Water enters the pump through a 50 mesh screen into a stainless steel cavity. Two Teflon* rotors sit in the stainless steel cavity and push the water up the hose in a steady stream. Efficient low maintenance pump is ideal for both remote field work and long term monitoring projects. There are no bladders to wear out. The low RPM motor protects sample integrity - no whipping the water up in stages. No cooling shroud or cool-down period is needed to prevent the motor from overheating as long as the pump is immersed in water. Designed for 2" and larger monitoring wells.
Dimensions: 1.75"diameter x 9" length
Materials: 304 stainless steel and Teflon*
Voltage Requirements: 36VDC
Lift Capacity: 150'
Click here for downloadable .pdf file with more pump specifications
---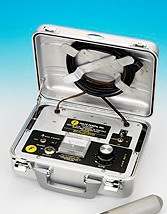 PORTABLE POWER SUPPLY CONTROL CASE
Our durable aluminum briefcase controller features a variable speed control dial to accurately meet low flow parameters. Includes a built in power supply to allow the operator to power the pump from any 110VAC source. Optional 36VDC power port for powering from external battery pack.
Input 110VAC / Output 36VDC

User controlled variable speed control

5 Amp Meter

7 Amp Breaker Switch for motor protection

Forward / Off / Reverse toggle switch
---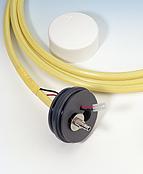 WELL CAP
Low clearance PVC waterproof well cap available for 2" and 4" wells. Well cap includes stainless steel couplings for discharge line. An extra 7/8" port allows for inserting other instruments into the well. The discharge hose (included) stores in the well. Pump / Hose / Well cap snap together via quick connect couplings for simple installation. Our Portable Power Supply Control Case (see above) plugs into this well cap to operate the pump.
Materials: PVC cap, stainless steel couplings, viton o-rings

Size: 2" or 4" well caps (specify schedule of casing)

Hose Length: Customer specifies exact length
---

HOSE WITH INTEGRATED POWER WIRE
Designed exclusively for Fultz Pumps, Inc.; this hose has the power cable built into the wall of the hose. This streamlined hose allows for easy installation. For our portable systems, this hose simplifies the decon process by eliminating the need to decon a power lead and separate tubing. Available in Polyethylene and Teflon* lined polyethylene. The Teflon* version has an extremely durable inner Teflon* tubing that remained fully adhered to the outer layer of Polyethylene during our in-house testing.
Dimensions: 3/8" ID

Materials: Polyethylene or Teflon* lined Polyethylene

Length: Customer specifies exact length
---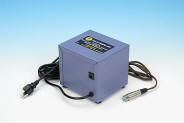 110V POWER SUPPLY
This power supply inputs 110VAC and outputs 36VDC required to run the pump. Used primarily with the portable reel system.
---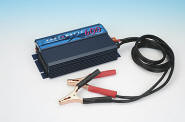 12V POWER SUPPLY INVERTER
This inverter allows the operator to power the pump from the vehicle battery. The alligator clips attach to the vehicle battery terminals. Input 12VDC / output 110VAC. You then plug our Portable Power Supply Control Case or our 110V Power Supply into this inverter to power the pump.
600W Continuous use

Weight: 3 lbs.
---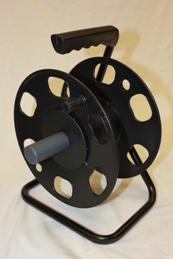 PORTABLE WIRE LEAD REEL
A wire reel stores your power lead tangle free and ready for the next use. The reel is both lightweight and durable for field conditions. A brake on the hub of the reel allows the operator to lower the pump to the desired depth and lock the reel to a stationary position. Two models available.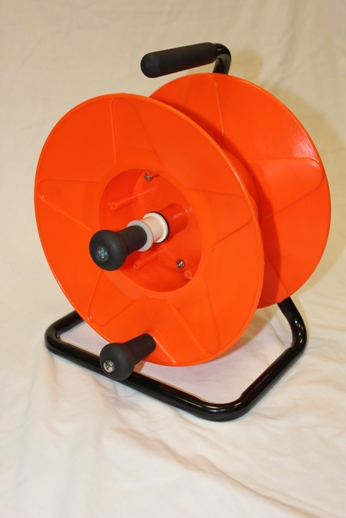 ---
CHECK VALVE
This detachable check valve is useful for projects where the hose cannot be allowed to empty back into the well. The check valve is inserted between the pump and hose connections.
---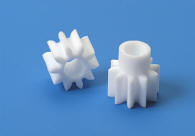 ROTOR KIT
Our positive displacement pump head uses two rotors machined from virgin Teflon* to displace the water up the hose in a steady stream. We use Teflon* in the interest of purity. This is the only component in our pump system that requires any routine maintenance. These rotors are field replaceable and reasonable priced. The field technician only needs a screwdriver and a pair of needle-nose pliers to change the rotors. Changing rotors when the pump's performance begins to fade will make the pump perform like new again.
---
* Teflon is a registered trademark of E.I. Dupont.
Specifications subject to change without notice.